by Eric Meier
The most common test for testing wood hardness is known as the Janka hardness test. The actual number listed in the wood profile is the amount of pounds-force (lbf) or newtons (N) required to imbed a .444″ (11.28 mm) diameter steel ball into the wood to half the ball's diameter.

In practical terms, a helpful question to ask would be: hard is hard enough? A lot of times, especially on floors, the finish will get scratched, when the wood underneath is perfectly fine. (This obviously excludes dents.) In all practicality, a great number of hardwoods are "hard enough" for nearly all residential applications. But, if you've simply got to have the hardest lumber around, then this list is for you!
---

(Anadenanthera colubrina)

3,630 lbf (16,150 N)

Also known as Curupay or by the exaggerated name Patagonian Rosewood, Cebil is not a true rosewood. It has a highly variable streaked appearance not too unlike Goncalo Alves.

---

 

(Swartzia spp.)

3,655 lbf (16,260 N)

Some pieces can be just about a dark as true ebony, while others are a more reddish brown with black streaks. So much depth in the Swartzia genus, there's something for everyone!

---

(Krugiodendron ferreum)

3,660 lbf (16,280 N)

Pieces are very seldom seen for sale, as this tree is too small to produce commercially viable lumber. Like the unrelated Desert Ironwood, Black Ironwood is an excellent choice for small turning projects.

---

(Dalbergia melanoxylon)

3,670 lbf (16,320 N)

In some parts of the world, this wood has achieved an almost legendary status. Historical evidence points to this wood (rather than Diospyros spp.) being the original "ebony."

---

(Vachellia erioloba)

3,680 lbf (16,370 N)

Formerly classified as a member of the Acacia genus, this south African hardwood is a tough customer. The wood is stubbornly hard, and the tree is protected by giant sharp thorns.

---

(Bulnesia arborea)

3,710 lbf (16,520 N)

Sometimes called Argentine Lignum Vitae, this wood is a gem: inexpensive, great olive-green color, beautiful feathery grain pattern, and it takes a great natural polish on the lathe.

---

(Brosimum guianensis)

3,800 lbf (16,900 N)

It's easy to see what makes Snakewood so unique–its patterns and markings resemble the skin of a snake. Limited supply and high demand make this one of the most expensive woods on earth!

---

(Acacia cambagei)

4,270 lbf (18,990 N)

This Australian endemic is both very heavy and very strong. Some pieces are dark enough to be used as an ebony substitute: one that's even harder than the original article.

---

(Guaiacum officinale)

4,390 lbf (19,510 N)

Widely accepted as the hardest wood in the world–this wood has been listed as an endangered species and is listed in CITES. Consider Verawood as a very close substitute.

---

(Schinopsis spp.)

4,570 lbf (20,340 N)

From the Spanish "quebrar hacha," which literally means "axe breaker." Aptly named, wood in the Schinopsis genus is among the heaviest and hardest in the world.

---
Honorable mentions: Leadwood (3,570 lbf), Brown Ebony (3,590 lbf), Ipe (3,510 lbf), Mopane (3,390 lbf), Burmese Blackwood (3,350 lbf), Kingwood (3,340 lbf).
Other notes:
Hardness listings are for woods at a dried weight of 12% moisture content.
There are a handful of obscure shrubs and small trees that yield wood which can be extremely hard. However, these species are typically only available regionally, and are never seen by the vast majority of woodworkers, nor are they reliably documented in woodworking publications.
---
See also:
---
Are you an aspiring wood nerd?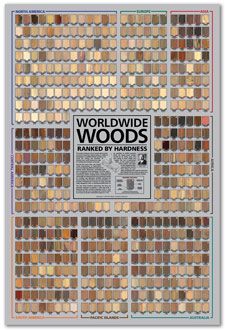 The poster, Worldwide Woods, Ranked by Hardness, should be required reading for anyone enrolled in the school of wood nerdery. I have amassed over 500 wood species on a single poster, arranged into eight major geographic regions, with each wood sorted and ranked according to its Janka hardness. Each wood has been meticulously documented and photographed, listed with its Janka hardness value (in lbf) and geographic and global hardness rankings. Consider this: the venerable Red Oak (Quercus rubra) sits at only #33 in North America and #278 worldwide for hardness! Aspiring wood nerds be advised: your syllabus may be calling for Worldwide Woods as part of your next assignment!