by Eric Meier
---

(Colophospermum mopane) Why you'll love it: This wood has superb acoustic qualities (lots of potential here), it's extremely dense, turns wonderfully, and it can have interesting color and grain patterns. Why you've never heard of it: It's hard to find, usually only available in small chunks and turning blanks. Also, it's quite expensive, and not too many people are prepared to spend a lot of money on a wood that they've never heard of, much less pronounce. Too bad, since it's a stellar hardwood!

---

(Paulownia tomentosa) Why you'll love it: Among the absolute lightest woods available, but not as styrofoam-soft as Balsa. It is also one of the most stable woods with regard to humidity and has very low movement in service. It grows like a weed, and trees are frequently plantation grown. Why you've never heard of it: The Japanese seem to use it all up before anyone else can get their hands on it. It's only fair, as the wood should simply go to the highest bidder, and Paulownia is prized in Japan and used for all sorts of things.

---

(Chlorocardium rodiei) Why you'll love it: Greenheart is a wood of extremes. Overall, it's probably the strongest wood in the entire world (seriously), with off-the-charts MOE and MOR and crushing strength. It also has exceptional rot resistance and weathering characteristics, especially in marine environments. Why you've never heard of it: This stuff is just a pain to work with. It's hard to glue, hard to saw, and it's also hard to find.

---

(Caesalpinia platyloba) Why you'll love it: So much to love… Chakte Viga has great acoustic/tonal qualities, it turns like a dream, it has a subtle iridescence that adds sophistication to any piece. But best of all, pieces with orangish or reddish coloration can be found—and the color actually lasts, which is more than can be said about some other *cough, Padauk, cough* woods. Why you've never heard of it: It also goes by the name Paela. It can be on the pricey side for a wood that's unknown to many.

---

(Dalbergia cultrata) Why you'll love it: Is it shallow to love a pretty face? This wood is gorgeous… that's about it. The grain pattern is totally unique and quite difficult to imitate or replace with another wood—I suppose the closest competition would be Pheasantwood. Why you've never heard of it: It's seldom available, and when it is, it's usually expensive. People probably figure it's an ebony knockoff of some sort, but it's an entirely different animal!

---

(Olneya tesota) Why you'll love it: If you're a knife-maker, you've probably heard of this wood before. The rest of the world doesn't have a clue. This stuff is so dimensionally stable it's almost scary. It just doesn't move. It also has amazing colors, graining, and is superb for turning. Why you've never heard of it: The tree itself grows very small and crooked, so pieces are very limited, expensive, and small. This stuff is best used for those super-special small projects you've had in the back of your mind.

---

(Pistacia vera) Why you'll love it: Just look at it! It has everything going for it: interesting color with lots of variation, and stripes that would almost put a zebra to shame. Why you've never heard of it: People tend to like their Pistachio trees for, well, their pistachios. They don't want to cut them down because you want some wood! This is going to cost you…

---

(Robinia pseudoacacia) Why you'll love it: Forget Ipe. Why do we need to go to a different continent to get a tough, durable wood when we've got one right in our own backyard? This stuff lasts and lasts, and unlike other domestics like Osage Orange, it's actually available in usable lumber sizes for an economical price. Why you've never heard of it: I'm baffled as to why more people don't know about and use Black Locust. Parts of Europe have caught on, and have already began plantations of Black Locust to supplant tropical hardwoods.

---

(Swartzia spp.) Why you'll love it: Like Ebony, but not it's prices? Then you'll love Katalox. Some pieces can be just about a dark as true ebony, with just a hint of purple. Other pieces can be a more reddish brown with black streaks. So much depth in the Swartzia genus, there's something for everyone here! Why you've never heard of it: It's not too frequently imported, and many boards have a ridiculous amount of sapwood in them, so you have to hunt for the best pieces. Perhaps people think it's too good to be true to find a dark ebony-like wood costing magnitudes less than the real deal. Believe it.

---

(Platymiscium spp.) Why you'll love it: This wood is uber-colorful, with many pieces having rich reds and oranges mixed in with darker brown and black veins of exquisiteness. Some woods are loved for their color, others are loved for their streaks and stripes. Macacauba has both. (And it's inexpensive to boot.) Why you've never heard of it: This beautiful wood has languished under some of the absolute worst names on the planet. (I don't have a clue how to pronounce Macacauba.) Other hideous names this wood has suffered with include: Macawood, Hormigo, and Coyote. Recently a marketing name has surfaced calling it "Orange Agate." I hope something works for it: Cinderella needs to get some well-deserved attention.

---
Honorable mentions: 
---
See also:
Are you an aspiring wood nerd?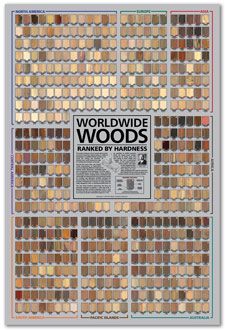 The poster, 
Worldwide Woods, Ranked by Hardness,
should be required reading for anyone enrolled in the school of wood nerdery. I have amassed over 500 wood species on a single poster, arranged into eight major geographic regions, with each wood sorted and ranked according to its Janka hardness. Each wood has been meticulously documented and photographed, listed with its Janka hardness value (in lbf) and geographic and global hardness rankings. Consider this: the venerable Red Oak (Quercus rubra) sits at only #33 in North America and #278 worldwide for hardness! Aspiring wood nerds be advised: your syllabus may be calling for
Worldwide Woods
as part of your next assignment!