by Eric Meier
The most common test for testing wood hardness is known as the Janka hardness test. The actual number listed in the wood profile is the amount of pounds-force (lbf) or newtons (N) required to imbed a .444″ (11.28 mm) diameter steel ball into the wood to half the ball's diameter.

While most people would be looking for the hardest wood, just out of curiosity, here's a list of the ten softest woods on the site. Keep in mind that five out of these ten woods (including the three softest) are considered hardwoods. This just goes to show that the terms hardwood and softwood merely refer to the botanical classification of the trees as either conifers (softwoods) or angiosperms (hardwoods). There's no guarantee that any given hardwood will actually be hard!
---

(Thuja plicata)

350 lbf (1,560 N)

This softie is a common soundboard material on guitars, though it's softness makes it a challenge to properly handle without denting or gouging it during construction.

---

(Populus tremuloides and P. trichocarpa)

350 lbf (1,560 N)

These two woods are closely related and have the same Janka hardness values. Aspen is sometimes used for utility lumber.

---

(Chamaecyparis thyoides)

350 lbf (1,560 N)

Sometimes called Southern White Cedar to differentiate it from Northern White Cedar, which also happens to have the same Janka hardness value.

---

 

(Aesculus octandra)

350 lbf (1,560 N)

Lumber is sometimes used for utility wood, though burl sections are decorative and used for electric guitars and small specialty wood objects.

---

(Abies lasiocarpa)

350 lbf (1,560 N)

Many species of Fir (Abeis genus) are soft, with Subalpine Fir being among the softest, second only to European Silver Fir.

---

(Thuja occidentalis)

350 lbf (1,560 N)

Closely related to Western Red Cedar, Northern White Cedar ranks among the softest of all cedars, and is also one of the softest conifers.

---

(Abies alba)

320 lbf (1,420 N)

Not only the softest of the Fir species (Abies genus), European Silver Fir is also among the softest of the softwoods. The remaining woods on this list are all hardwoods.

---

(Populus balsamifera)

300 lbf (1,330 N)

Related to Cottonwood and Aspen, Balsam Poplar has a unique scent when green, though it dries to one of the lightest and softest of all woods.

---

(Paulownia spp.)

260 lbf (1,160 N)

The other Balsa. Paulownia can be very light and soft, and is really the only other wood that at times can even approach Balsa's lightness. Ironically, both are hardwoods.

---

(Ochroma pyramidale)

90 lbf (390 N)

It's common knowledge, but Balsa is indeed the softest and lightest of all commercial woods. Nothing else even comes close. Useful for insulation, buoyancy, and other special applications.

---
Note: A hardwood named Quipo (Cavanillesia platanifolia) is commonly reported as the softest known wood, with an alleged Janka hardness of 22 lbf (98 N). However, the wood is omitted from this list for two main reasons. First, it is virtually unobtainable and not commercially available outside of its natural range in Central/South America. Secondly, the purported hardness seems highly questionable, especially in light of the fact that Quipo seems to be very susceptible to rot, and on one USDA test, it was remarked that "the results for quipo may have been influenced by the presence of considerable decay." Furthermore, when comparing Quipo with Balsa, it has been shown that the two woods are virtually identical in hardness, with the absolute lowest recorded Janka hardness values, in the range of 20-35 lbf (89-156 N), were actually from Balsa, and not Quipo.
See also:
Are you an aspiring wood nerd?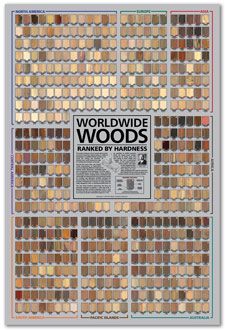 The poster, Worldwide Woods, Ranked by Hardness, should be required reading for anyone enrolled in the school of wood nerdery. I have amassed over 500 wood species on a single poster, arranged into eight major geographic regions, with each wood sorted and ranked according to its Janka hardness. Each wood has been meticulously documented and photographed, listed with its Janka hardness value (in lbf) and geographic and global hardness rankings. Consider this: the venerable Red Oak (Quercus rubra) sits at only #33 in North America and #278 worldwide for hardness! Aspiring wood nerds be advised: your syllabus may be calling for Worldwide Woods as part of your next assignment!