Every once in awhile, in the midst of the myriad scanning I do for the site, I stumble across an endgrain zoom of a wood sample that strikes me as being outstanding.
Being that the standardized sizes of the zoomed scans on the site only show about an area 3/8″ x 3/8″ square, I can't really show off the grain patterns that I see in processing the images for the site.
So, here's some sweet high-res pictures that I've found look nice, and would make for an interesting desktop background for your computer:
Are you an aspiring wood nerd?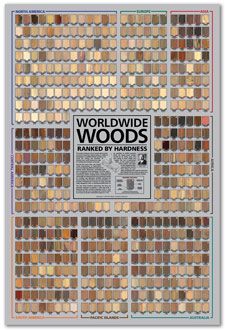 The poster, Worldwide Woods, Ranked by Hardness, should be required reading for anyone enrolled in the school of wood nerdery. I have amassed over 500 wood species on a single poster, arranged into eight major geographic regions, with each wood sorted and ranked according to its Janka hardness. Each wood has been meticulously documented and photographed, listed with its Janka hardness value (in lbf) and geographic and global hardness rankings. Consider this: the venerable Red Oak (Quercus rubra) sits at only #33 in North America and #278 worldwide for hardness! Aspiring wood nerds be advised: your syllabus may be calling for Worldwide Woods as part of your next assignment!